A Potted Biography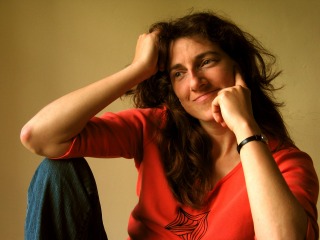 I've always been an addict for learning how different people live, and the best way to find out has seemed to be to work alongside them.
I've had such a bizarre array of jobs that, at one point, I had separate CV's for office work, theatre directing, teaching, and also theatrical management — as well as a CV that made it look as though I hadn't set foot outside a microbiology lab for years.
I started my first Saturday job when I was 14, on the local vegetable barrow, and before I was sixteen I was working an 8-show week backstage in West End theatres as a dresser — on Oklahoma!, Annie, Barnum; whatever show came up — a secret life that I managed to fit in around days at school near Brixton (luckily no-one noticed that I bunked off every Wednesday afternoon to do mid-week matinees).
Both my parents were theatre people so my childhood was pretty bohemian. Family holidays for us three kids were often wherever a parent was on location filming or working in the theatre. When I left school I studied biology at the University of London and then did post-grad research in microbiology at the University of Kent.
What then…? I spent a year or two in France. I worked for Pfizer as a microbiologist, worked for the Society of Genealogists, worked as a hat-check girl in a nightclub, as an assistant in a deli, a wine waitress in a theatre café, manager of a van-hire firm, as a lorry driver, on the top floor of a City bank, on the phones in a courier company, on the QE2, in a betting office, in a pub, at Ticketmaster, as a cleaner, a secretary, a receptionist, teaching English to foreign students, training computer-users at the BBC, castle caretaking in Tuscany — having a whale of a time working days, evenings and weekends, combining as many jobs as I could. And each job lasted until I stopped learning anything new (or the company went bankrupt, which occasionally happened). I even worked in a Mayfair nightclub — the type where girls dance with rich businessmen in nothing but slinky undies and stockings and high-heels. That one only lasted a few nights; if I had stayed any longer I would have learned a good deal more than I wanted to.
Much of my work has been in the theatre. I worked, on and off, for more than a decade for a West End producer as a script supervisor and production supervisor. I also had a parallel career as a director and drama coach, directing plays including Agatha Christie's The Unexpected Guest, Peter Shaffer's Equus, Alan Bleasedale's Having a Ball, an outdoor production of Twelfth Night, Mikhail Bulgakov's Molière, and operas including Verdi's La Forza del Destino and Britten's Turn of the Screw.
Since leaving the theatre, I've written and published my first novel, and am working on further novels. I've also done four years' psychotherapy training and have worked as a psychotherapist.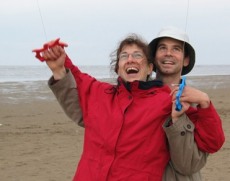 I consider myself incredibly lucky: I've had an enormous number of wonderful opportunities and experiences, and I'm also very lucky to be published by Random House in the UK and Ballantine in the US. Most luckily of all, I've been married since I left university to the funniest, wisest and most gorgeous man in the world. Doug and I have lived mostly in London, as well as France and the Lincolnshire Wolds, and we now live in Hampshire where I work full-time as a writer.